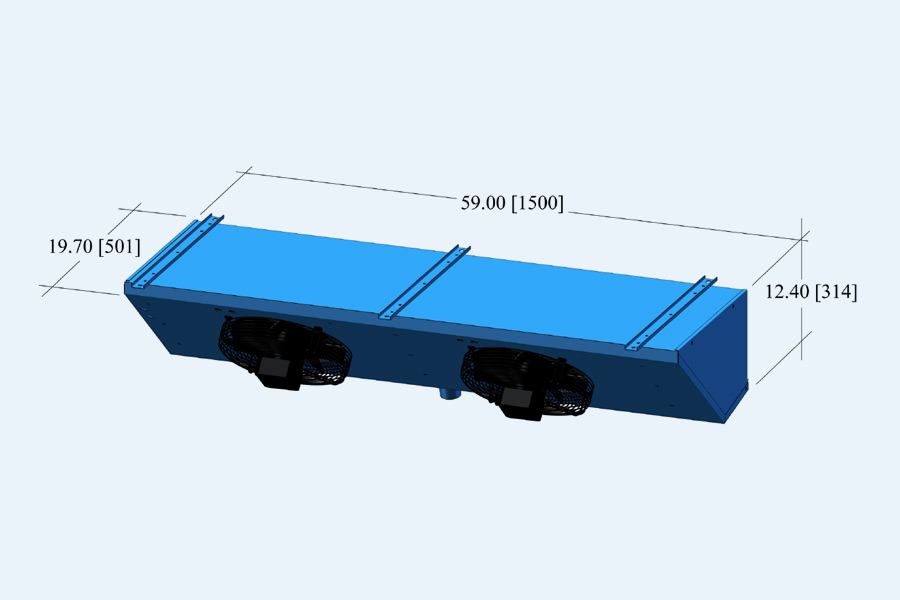 Maintain Room Temperature with Our Low-Profile Evaporators
The ECO-265 and ECO-266 evaporators are our low-profile, high-capacity units designed to be mounted to ceilings in electrical enclosures, rooms, or containers. As industrial heavy-duty units, the ECO-265 and ECO-266 maintain the temperature in a room when matched with one of our condensers. These advanced, heavy-duty designs withstand vibration and corrosion and operate efficiently under dirt loading conditions.
Explore the specifications and flexible mounting options for our ECO-265 and ECO-266 evaporator units below. If you'd like to learn more about the features and applications of this unit and discuss its available options, please contact our sales team today.
CAPACITY
45,000 BTUH (13.9KW)
RETURN AIR RANGE
72°F-90°F (22°C-32°C)
FRAME CONSTRUCTION
16 gauge heavy-duty frame
Stainless steel drip pan, epoxy powder coated
Optional 316 stainless steel
REFRIGERANT
R-134A
R-450A
VOLTAGE
230-460/3/60 Hz VAC
220, 380-415/3/50 Hz VAC
240 VDC with VFD
EVAPORATOR COIL
Aluminum fin, copper tube 8 fins per inch (3.2mm)
Heavy gauge .0095" (.241mm) hardened fin stock
Flexible epoxy coated
AXIAL FAN
2 @ .25 HP (.19 KW)
1750RPM @ 60Hz each
1450RPM @ 50Hz each
WEIGHT
150 lb/68 kg
MOUNTING
Ceiling
*See mounting page for configurations