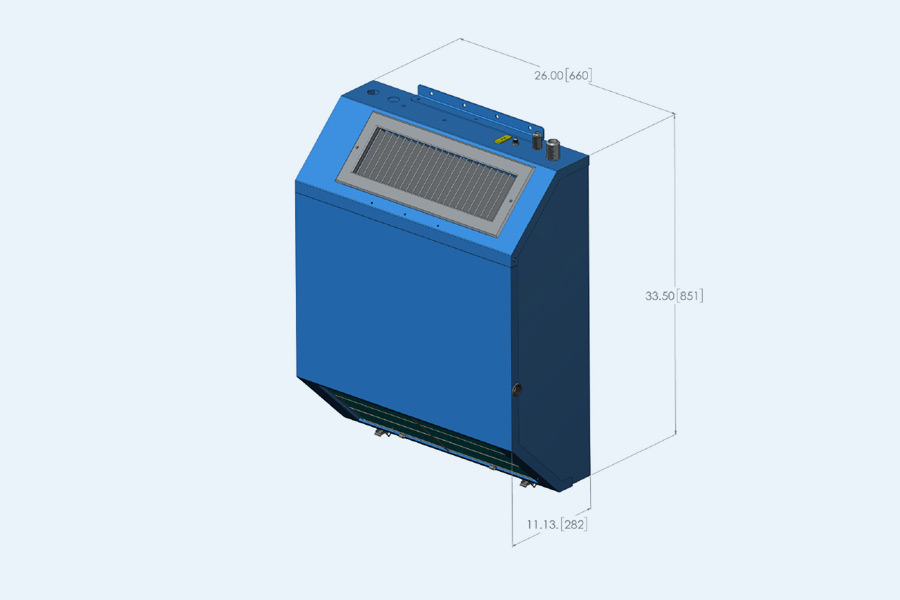 A Solution for Cooling Needs in Minimal Space Areas
Designed for dirty, corrosive, and hot environments, the 931SE slim line evaporator requires minimal space and is compatible with several Lintern Corporation condensers. It withstands constant and heavy vibration and is recommended for use in coke plants, pickling lines, and salt water areas as well as any other hot or dirty environment. It can be implemented in mobile or stationary applications and requires minimal maintenance.
Explore the specifications and flexible mounting options for our 931SE slim line evaporator unit below. If you'd like to learn more about the features and applications of this unit and discuss its available options, please contact our sales team today.
CAPACITY
8,000-29,000 BTUH (2.3-5.8 KW)
RETURN AIR RANGE
72°F-90°F (22°C-32°C)
FRAME CONSTRUCTION
Heavy gauge, epoxy-coated frame
Optional embossed 304 stainless steel frame
REFRIGERANT
R-134A
R-450A
VOLTAGE
208-230/460/575/3/60 Hz VAC
200/380, 400, 415/500/3/50 Hz VAC
240 VDC straight or with VFD
CONTROLS
K-type plug for super heat monitoring
EVAPORATOR MOTOR
.25HP (.19kW) 1140RPM 60Hz @ 57dba
950RPM 50Hz @ 57dba
.50HP (.37kW) 1750RPM 60Hz @ 71dba
1450RPM 50Hz @ 71dba
EVAPORATOR COIL
Aluminum fin, copper tube 8 fins per inch (3.2mm)
Heavy gauge .0095" (.241mm) hardened fin stock
Flexible epoxy coated
WEIGHT
160 lb/73 kg
MOUNTING
Ceiling or wall
*See mounting page for configurations
HEATER (OPTIONAL)
4000 watt