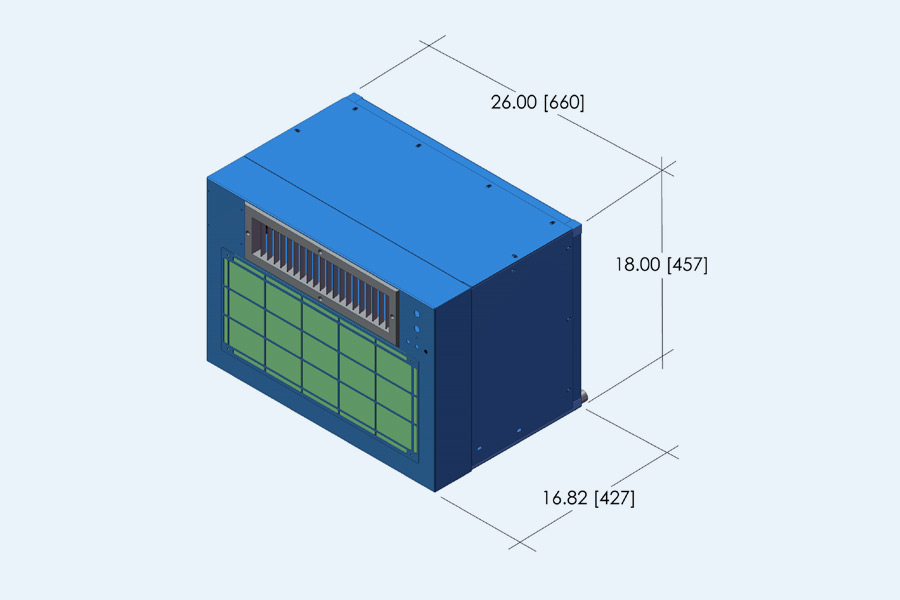 Resist Tough Environments with an Equally Resistant Evaporator
The 214E evaporator from Lintern Corporation is a compact, high-performing solution for a variety of applications where extreme heat, corrosive elements, and significant dirt and dust are common. It features a superbly durable construction, can be used in mobile or stationary applications, and delivers maintenance-free cooling support alongside an appropriate condenser unit. The 214E was designed for areas where space is limited, yet provides the cooling performance you need to protect your workers and other equipment.
Explore the specifications and flexible mounting options for our 214E evaporator unit below. If you'd like to learn more about the features and applications of this unit and discuss its available options, please contact our sales team today.
CAPACITY
13,000 BTUH (3.8 KW)
RETURN AIR RANGE
72°F-90°F (22°C-32°C)
FRAME CONSTRUCTION
Welded tube frame, epoxy powder coated
Optional embossed 304 stainless steel
REFRIGERANT
R-134A
R-450A
VOLTAGE
208-230/460/575/3/60 Hz VAC
380-415/500/3/50 Hz VAC
240 VDC with VFD
CONTROLS
K-type plug for super heat monitoring
EVAPORATOR COIL
Aluminum fin, copper tube 8 fins per inch (3.2mm)
Heavy gauge .0095" (.241mm) hardened fin stock
Flexible epoxy coated
EVAPORATOR MOTOR
Backward curved motorized impeller
Optional high static blower for ducted application
400CFM 680M3/H x 57dba
WEIGHT
125 lb/57 kg
MOUNTING
Roof, wall, or flush
*See mounting page for configurations
HEATER (OPTIONAL)
4000 watt