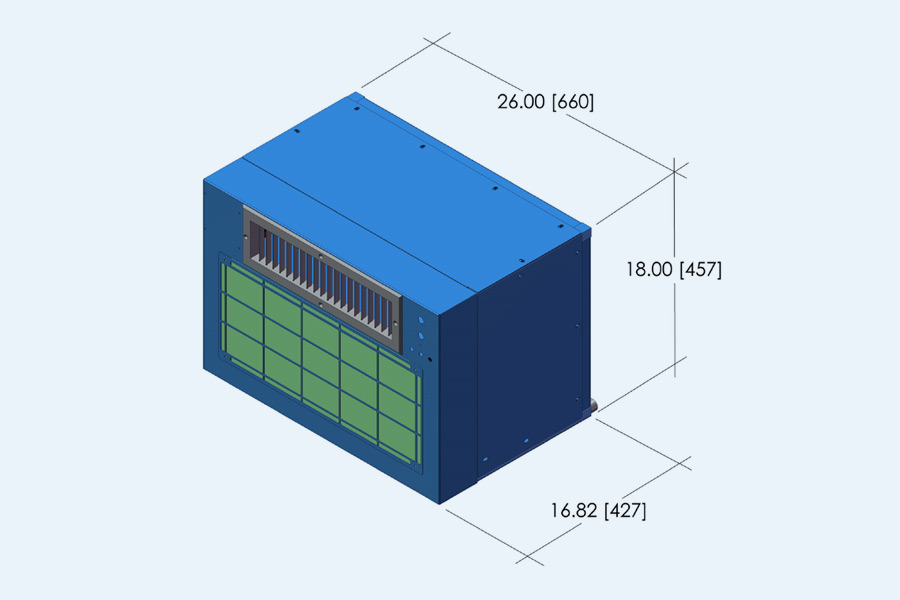 A Solution for Cooling Needs in with limited mounting options
When your application offers minimal space, yet cooling for an extreme environment remains unsolved by commercial air conditioning systems, the 924E evaporator from Lintern Corporation will rise to the challenge. When coupled with an appropriate condenser, the 924E evaporator is capable of extracting heat and assisting in significant cooling capacity. It works in mobile or stationary applications, particularly those where heavy dirt, corrosion, and heat are constant. Entrust your cooling needs to the 924E and other Lintern cooling solutions.
Explore the specifications and flexible mounting options for our 924E evaporator unit below. If you'd like to learn more about the features and applications of this unit and discuss its available options, please contact our sales team today.
CAPACITY
11,500-29,000 BTUH (3.4-8.5 KW)
RETURN AIR RANGE
72°F-90°F (22°C-32°C)
FRAME CONSTRUCTION
Heavy gauge, epoxy-coated frame
Optional embossed 304 stainless steel frame
REFRIGERANT
R-134A
R-450A
VOLTAGE
208-230/460/575/3/60 Hz VAC
200/380, 400, 415/500/3/50 Hz VAC
240 VDC straight or with VFD
CONTROLS
K-type plug for super heat monitoring
EVAPORATOR COIL
Aluminum fin, copper tube 8 fins per inch (3.2mm)
Heavy gauge .0095" (.241mm) hardened fin stock
Flexible epoxy coated
EVAPORATOR MOTOR
.25HP (.19kW) 1140RPM 60Hz @ 57dba
950RPM 50Hz @ 57dba
.50HP (.37kW) 1750RPM 60Hz @ 71dba
1450RPM 50Hz @ 71dba
WEIGHT
140 lb/64 kg
MOUNTING
Roof, wall, or flush
*See mounting page for configurations
HEATER (OPTIONAL)
4000 watt