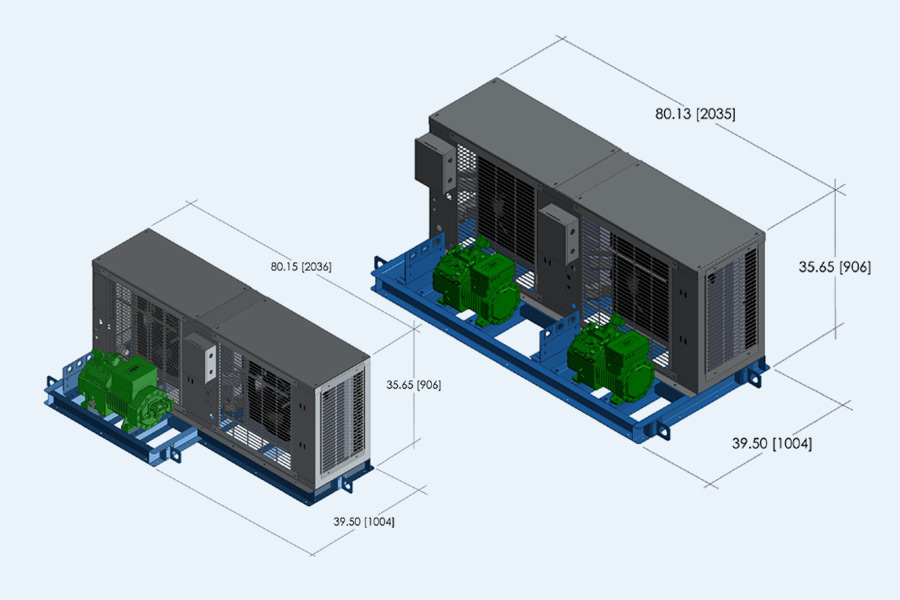 When Performance Counts, the G20 Condenser Delivers
If you're working in one of the many environments where extreme temperatures, high corrosion, and significant dirt and dust abound, only the most severe-duty air conditioning condenser will do. Lintern Corporation offers the G20 condenser for such applications, delivering extreme cooling capacity wherever and whenever it's needed to protect people and equipment. It features several compressor options and control/safety features for your application demands.
Explore the specifications and flexible mounting options for our G20 condenser unit below. If you'd like to learn more about the features and applications of this unit and discuss its available options, please contact our sales team today.
CAPACITY
17,000-110,000 BTUH (4.0-32.2 KW)
OPERATING RANGE
72°F-160°F (22°C-71°C)
FRAME CONSTRUCTION
Heavy gauge 304 stainless steel frame
4" (102mm) epoxy-coated common base channel
CONDENSER COIL
Aluminum fin, copper tube 8 fins per inch (3.2mm)
Heavy gauge .0095" (.241mm) hardened fin stock
Flexible epoxy coated
REFRIGERANT
R-134A
R-450A
COMPRESSOR
Bitzer semi-hermetic reciprocating compressor with 4-cylinder
FAN MOTOR
24" (610mm) motorized axial fan
3000CFM @ 50Hz 5100 M3H
3600CFM @ 60Hz 6120 M3H
VOLTAGE
208-230/460/575/3/60 Hz VAC
380-415/3/50 Hz VAC
240VDC with VFD package
CONTROLS
Dual pressure switch
Crankcase heater
Receiver tank for system pump down
Pressure relief valve
Low pressure switch for unloading
Optional low ambient controls
WEIGHT
720-1100 lb/324-500 kg
MOUNTING
Floor mounting
*See mounting page for configurations
Under development. Check back soon