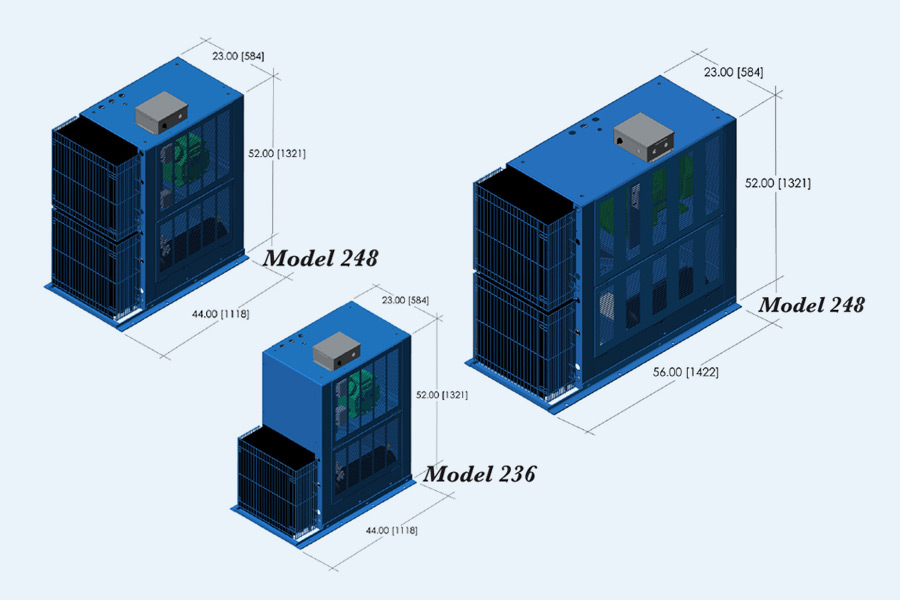 A Versatile Design That Solves Your Application Challenges
For the most severe applications, only a severe-duty condenser will do. That's why we designed the 2000 series of air conditioning condensers. Featuring a single chassis, the 2000 series condenser allows us to add coils and tailor the compressor so you get the right cooling performance for your specific application. Whether you're working in a corrosive, hot, dirty, or highly vibratory environment (or all four), the Lintern 2000 series will rise to the challenge.
Explore the specifications and flexible mounting options for our 2000 series condenser unit below. If you'd like to learn more about the features and applications of this unit and discuss its available options, please contact our sales team today.
CAPACITY
18,000-76,000 BTUH (5.3-22.85 KW)
OPERATING RANGE
70°F-160°F (21°C-71°C)
FRAME CONSTRUCTION
Heavy gauge, epoxy-coated mild steel
Optional 316 stainless steel
CONDENSER COIL
Aluminum fin, copper tube 8 fins per inch (3.2mm)
Heavy gauge .0095" (.241mm) hardened fin stock
Flexible epoxy coated
REFRIGERANT
R-134A
R-450A
COMPRESSOR
Copeland hermetic scroll, semi-hermetic, or Bitzer open drive with oil pump
2- or 4-cylinder depending on capacity required
FAN MOTOR
18" (457mm) diameter axial fan with epoxy-coated aluminum blades
2335CFM @ 50Hz 3970 M3H
2800CFM @ 60Hz 4760 M3H
Optional high ambient temperature applications
VOLTAGE
208-230/460/575/3/60 Hz VAC
380-415/500/3/50 Hz VAC
240 VDC
CONTROLS
Dual pressure switch
Low pressure switch for unloading
Crankcase heater
Receiver tank for system pump down
Pressure relief valve
Optional low ambient controls
WEIGHT
725 lb/330 kg — 236 series
1000 lbs-454kg — 248 series
MOUNTING
Exterior
*See mounting page for configurations
Under development. Check back soon.