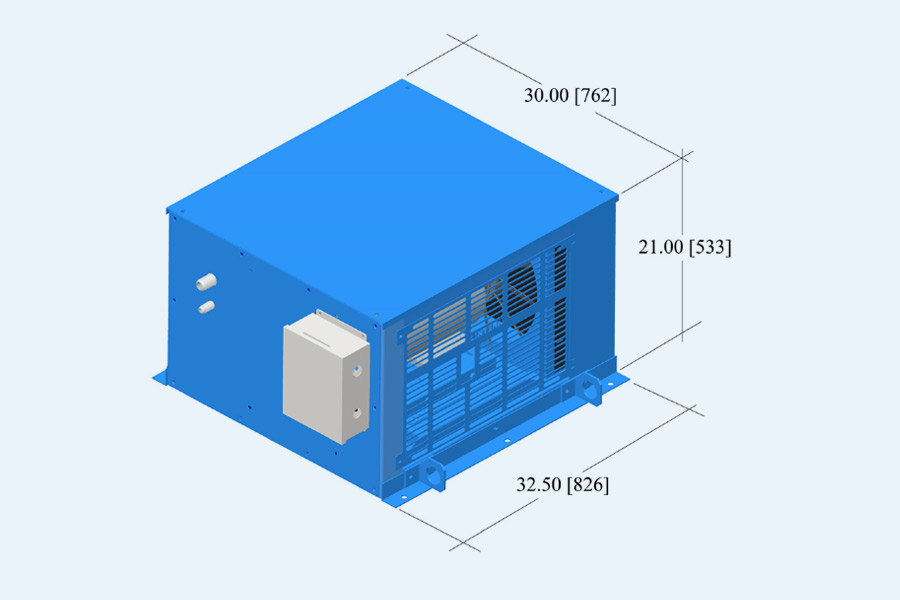 A Precision-Machined Solution for Multi-Application Performance
The 228 air conditioning condenser from Lintern Corporation has been precision-machined to deliver the cooling performance your people and equipment need in the harshest environments. Whether as part of a split system or a self-contained air conditioning unit, the 228 condenser helps to make environments more manageable while preventing excessive vibration and maintenance-free operation. It features extremely durable construction and high corrosion resistance, enabling it to function seamlessly in multiple applications.
Explore the specifications and flexible mounting options for our 228 condenser unit below. If you'd like to learn more about the features and applications of this unit and discuss its available options, please contact our sales team today.
CAPACITY
18,000-24,000 BTUH (5.3-7.0 KW)
OPERATING RANGE
70°F-140°F (21°C-60°C)
FRAME CONSTRUCTION
Welded tube frame, epoxy powder coated
Optional embossed 304 or 316 stainless steel
CONDENSER COIL
Aluminum fin, copper tube 8 fins per inch (3.2mm)
Heavy gauge .0095" (.241mm) hardened fin stock
Flexible epoxy coated
REFRIGERANT
R-134A
R-450A
COMPRESSOR
Bitzer reciprocating, open drive
Positive displacement oil pump
COMPRESSOR MOTOR
5 HP (2.72kW) NEMA totally enclosed
CONDENSER FAN MOTOR
16" (406mm)
1750 CFM 2973 m3/h
Fiberglass reinforced nylon with aluminum hub
Mounted on compressor motor
VOLTAGE
208-230/460/575/3/60 Hz VAC
380-415/500/3/50 Hz VAC
240 VDC
CONTROLS
Dual pressure switch
Oil failure switch
Crankcase heater
Receiver tank for system pump down
Optional low ambient control
Pressure relief valve
WEIGHT
510 lb/231 kg
MOUNTING
Floor
*See mounting page for configurations
Under development. Check back soon.