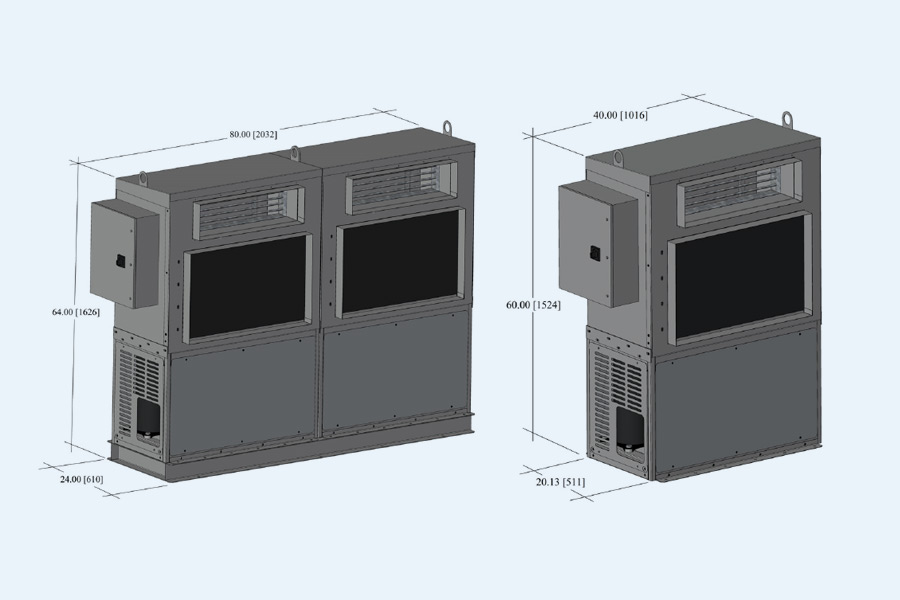 High-Performance Air Conditioning for Challenging Applications
The water-cooled self-contained air conditioner from Lintern Corporation features our highest cooling capacity range. It features two connection options — tower water or city water — and is capable of working in some of the most challenging working environments.
Explore the specifications and flexible mounting options for our water-cooled self-contained air conditioning unit below. If you'd like to learn more about the features and applications of this unit and discuss its available options, please contact our sales team today.
CAPACITY
29,500-142,000 BTUH (8.65-41.42 KW)
OPERATING RANGE
35°F-160°F (2°C-71°C)
RETURN AIR RANGE
72°F-90°F (21°C-32°C)
HEAT EXCHANGER
Single or double base 304 stainless steel
REFRIGERANT
R-134A
R-410A
WATER HOOKUP
¾ up to 1¼" NPT outlet
¾ up to 1¼ " NPT inlet
COMPRESSOR
Scroll compressor
VOLTAGE
220-240, 380-415/3/50 HZ VAC
230, 460, 575/3/60 HZ VAC
CONTROLS
High/low pressure switch
Water regulating valve
Tower water: connected to outlet
City water: connected to inlet
EVAPORATOR MOTOR
Motorized impeller, backward curved
1800CFM @ 60Hz
3058 M3/H 66dba
EVAPORATOR COIL
Aluminum fin, copper tube 8 fins per inch (3.2mm)
Heavy gauge .0095" (.241mm) hardened fin stock
Flexible epoxy coated
MOUNTING
Floor or wall
*See mounting page for configurations
HEATER (OPTIONAL)
4000 watt or 6000 watt optional
OPTIONAL
Split type system
Tower or city water connection