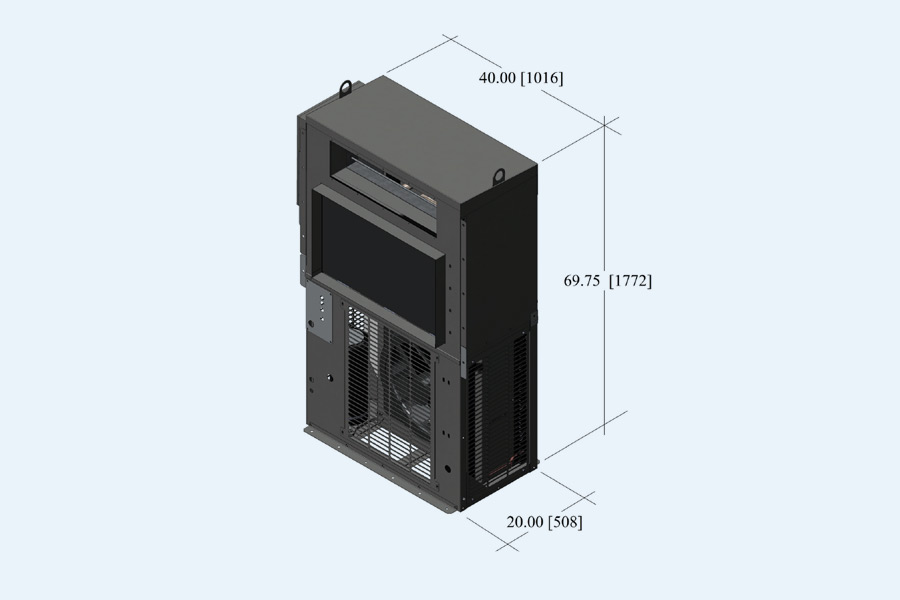 A High-Performance Solution for Wall-Mounted Cooling Needs
The LHDW self-contained air conditioning unit from Lintern Corporation is a heavy-duty wall-mounted cooling system designed for high temperature environments in industrial, marine, and tropical environments. This innovative, high-performing unit is also available in a split configuration, allowing the condenser to be located remotely as well as the evaporator.
Explore the specifications and flexible mounting options for the LHDW self-contained air conditioning unit below. If you'd like to learn more about the features and applications of this unit and discuss its available options, please contact our sales team today.
CAPACITY
25,000-65,000 BTUH (5.8-19 KW)
OPERATING RANGE
50°F-135°F (10°C-57°C)
RETURN AIR RANGE
72°F-90°F (21°C-32°C)
FRAME CONSTRUCTION
304 stainless steel
CONDENSER COIL
Aluminum fin, copper tube 8 fins per inch (3.2mm)
Heavy gauge .0095" (.241mm) hardened fin stock
Flexible epoxy coated
REFRIGERANT
R-134A
R-450A
COMPRESSOR
Copeland hermetic scroll
COMPRESSOR FAN MOTOR
24" (610mm) motorized axial fan
3000CFM @ 50Hz/5100M3/H
3600CFM @ 60Hz/6120M3/H
VOLTAGE
208-230/460/575/3/60 Hz VAC
380-415/500/3/50 Hz VAC
Single phase available on limited models
240 VDC with VFD
CONTROLS
High/low pressure
Optional low ambient controls
EVAPORATOR MOTOR
Backward curved motorized impeller
1800 CFM 3058 m3/H 66dba
EVAPORATOR COIL
Aluminum fin, copper tube 8 fins per inch (3.2mm)
Heavy gauge .0095" (.241mm) hardened fin stock
Flexible epoxy coated
WEIGHT (lb/kg)
520 lb/236 kg
MOUNTING
Floor mount vertical or outside wall mount
*See mounting page for configurations
HEATER (OPTIONAL)
4000 watt or 6000 watt electrical heater