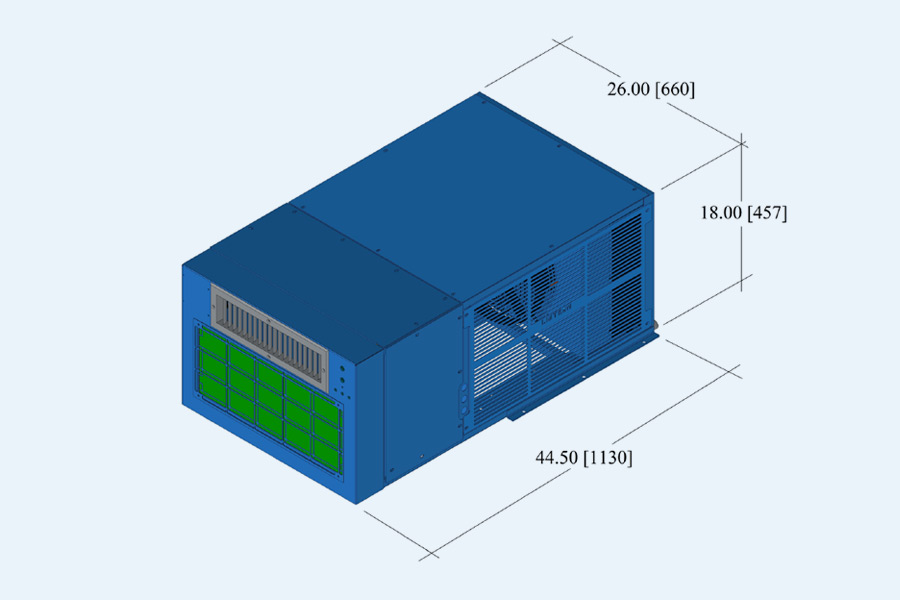 A Complete System for Your Cooling Needs
Lintern Corporation designs, manufactures, and supports the 215 self-contained air conditioning system. With all of the key elements of a full air conditioning system combined into one unit, the 215 delivers reliable performance and efficient cooling in virtually any application where environmental challenges like heat and dirt make conventional air conditioning systems unusable or unsuitable.
Explore the specifications and flexible mounting options for the 215 self-contained air conditioning unit below. If you'd like to learn more about the features and applications of this unit and discuss its available options, please contact our sales team today.
CAPACITY
14,000 BTUH (4.1 KW)
OPERATING RANGE
50°F-160°F (10°C-71°C)
RETURN AIR RANGE
72°F-90°F (21°C-32°C)
FRAME CONSTRUCTION
Welded tube frame, epoxy powder coated
Optional embossed 304 stainless steel
CONDENSER COIL
Aluminum fin, copper tube 8 fins per inch (3.2mm)
Heavy gauge .0095" (.241mm) hardened fin stock
Flexible epoxy coated
REFRIGERANT
R-134A
COMPRESSOR
Bitzer semi-hermetic reciprocating compressor, 2 cylinder
CONDENSER FAN MOTOR
14" (355mm) Dia. Axial fan
1116CFM @ 50Hz 1900M3/H
1340CFM @ 60Hz 2280M3/H
VOLTAGE
208-460/575/3/60 Hz VAC
380-415/3/50 Hz VAC
240 VDC with VFD
CONTROLS
Dual pressure switch
Crankcase heater
Digital controls
K-type plug for super heat monitoring
EVAPORATOR MOTOR
Backward curved motorized impeller
Optional high static blower for ducted application
400CFM 680M3/H x 57dba
EVAPORATOR COIL
Aluminum fin, copper tube 8 fins per inch (3.2mm)
Heavy gauge .0095" (.241mm) hardened fin stock
Flexible epoxy coated
WEIGHT (lb/kg)
300 lb/136 kg
MOUNTING
Roof, flush, or stacked vertical
*See mounting for configurations
HEATER (OPTIONAL)
4000 watt electric heater assembly