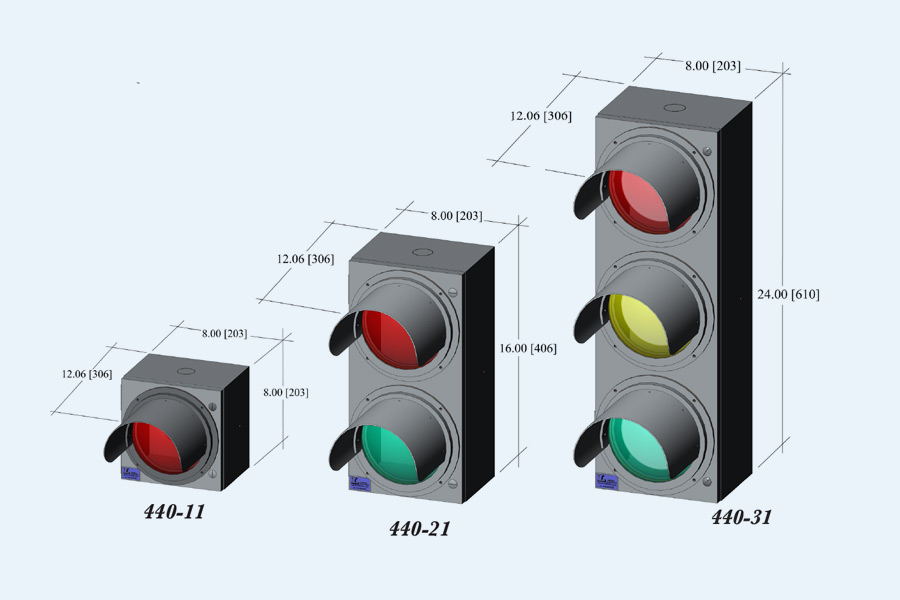 Industrial Signal Light Solutions for Protecting People and Assets
Lintern Corporation industrial signal lights offer many advantages for traffic at dangerous corners, weigh scales, underpasses, and abutments. Our lanterns are equipped with metal reflectors, hoods, and high-quality semaphore lenses that provide a brilliant signal under all conditions. Each is built of welded 16 gauge steel and is equipped with hinged doors and ¼ turn-captive fasteners for easy lamp changes. They are weather resistant, dust resistant, and are supplied with an LED bulb. Can be combined to face different directions. A flasher kit is also available.
Applications include: Overhead crane signals, crane clearance indicators, mine warning signals, fire extinguisher equipment, pier and dam markers, parking garages, loading docks, high-voltage warnings, gauge lights, exits, fire alarms, railroad crossing gates
Explore the specifications and flexible mounting options for our industrial signal lights and lanterns below. If you'd like to learn more about the features and applications of these units and discuss their available options, please contact Amy Snyder asnyder@lintern.com.
CONSTRUCTION
Heavy-duty 16 gauge painted steel with lens hood
LENS
Heavy-duty prismatic 6⅜" (162mm) semaphore glass lens
COLORS
Red, railroad green, amber, blue, clear
LIGHT
Standard A-19 socket
8 Watt LED bulb included with each purchase
VOLTAGE
110 VAC, 250 VAC/VDC*
*LED bulb only works with 110V power
FLASHERS
Solid state, single light fixed flasher (60 FPM)
Dual light adjustable or 3-light traffic signal
INSTALLATION
Multiple ¾" conduit for easy connection and installation
OPTIONS
Shock absorber, 316 stainless steel frame, lettered plate for color identification