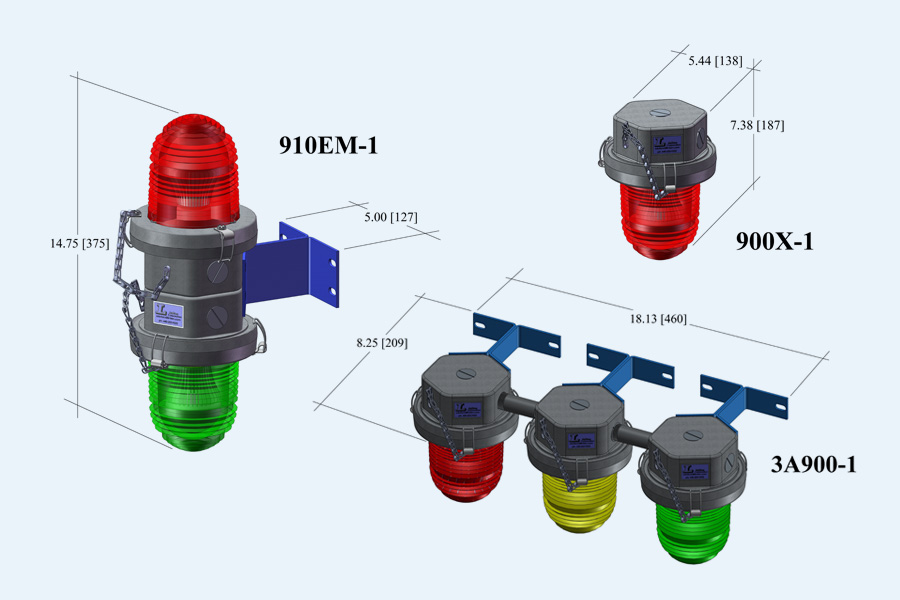 Industrial Warning Lights to Mark Hazards and Protect Workers
Designed and engineered for maximum service and minimum maintenance, our glowlites are unique in many respects. These industrial warning lights give a brilliant signal from any angle of vision, are exceptionally sturdy, require little to no maintenance, and have uncommonly long life. A unique snap-clamp and safety chain arrangement makes lamp changes safe and easy. The top and lens ring assembly are made of lightweight, pressure-cast aluminum. Our exclusive lens features heavy-duty prismatic glass reinforced with ribbing for extra strength.
Applications include: Overhead crane signals, crane clearance indicators, mine warning signals, fire extinguisher equipment, pier and dam markers, parking garages, loading docks, high-voltage warnings, gauge lights, exits, fire alarms, railroad crossing gates, landscaping lighting
Also available: Signal flasher, shock absorber, fluorescent adaptor kit, lens guard, mounting brackets
Explore the specifications and flexible mounting options for Glowlite units below. If you'd like to learn more about the features and applications of this unit and discuss its available options, please contact Amy Snyder asnyder@lintern.com.
CONSTRUCTION
Base and lens ring made of lightweight pressure cast aluminum
Gasket seal to make unit weather and dust resistant
LENS
Heavy-duty prismatic glass lens with reinforced ribbing inside and out
COLORS
Clear, red, green, amber, blue, purple
LIGHT
Standard A-19 socket
8 Watt LED bulb included with each purchase
VOLTAGE
110 VAC, 250 VAC/VDC*
*LED bulb only works with 110V power
FLASHERS
Solid state, single light fixed flasher (60 FPM)
INSTALLATION
Multiple ¾" conduit for easy connection and installation
OPTIONS
Lens guard, mounting bracket shock absorber