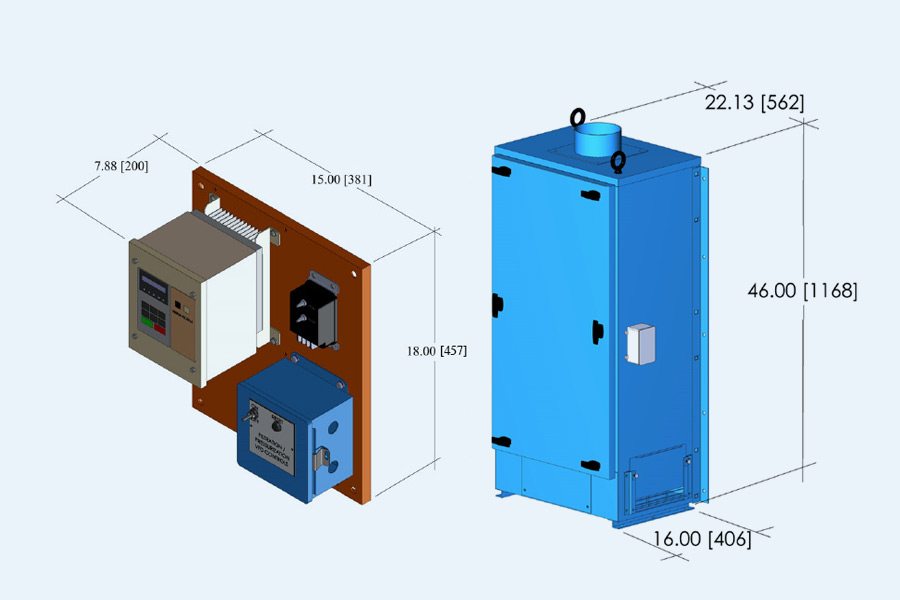 Protect Operators and Assets from Gasses and Particulate Matter
In addition to best-in-class, severe-duty air conditioning systems, Lintern Corporation proudly offers the LIC 250 filtration and pressurization system. This device is a compact, high-efficiency air cleaner designed to protect operators, control room instrumentation, and other equipment from hazardous and toxic airborne gas and particulate matter. It features a string of four filters and features a variable frequency drive (VFD) for greater efficiency.
Explore the specifications and flexible mounting options for the LIC 250 pressurization and filtration unit below. If you'd like to learn more about the features and applications of this unit and discuss its available options, please contact our sales team today.
CAPACITY (FT2/M3)
Pressurization of enclosures up to 840 ft³ (24 m³) @ 50/60Hz calculations based on 10% of room volume leakage per minute
Pressurization level of 0.05 inches W.C. (12.5Pa)
250 CFM total capacity
CABINET
Heavy gauge steel, epoxy coated
Optional 316 stainless steel
VFD
Variable Frequency Drive package with pressure transducer to automatically maintain internal room pressure
VOLTAGE
208-230/460/575/3/60 Hz VAC
380-415/500/3/50 Hz VAC
240 VDC with VFD
SLIDE PLATE
Adjustable slide plate located on return air opening
BLOWER
Motorized impeller, backward curved
FILTER TRAIN
No. 1 filter: Electrostatic pre-filter, washable
No. 2 filter: Disposable 2" (50mm) pleated filter
No. 3: Two (2) cells (40 lbs. each) with disposable media designed for your specific application
No. 4 filter: Absolute HEPA filter using a disposable glass medium; 99.97% efficiency on particulates .3 microns or larger
WEIGHT (LB/KG)
Filter: 280 lb/127 kg
Control panel: 20 lb/9 kg
Total: 300 lb/147 kg
MOUNTING
Vertical mount only
Direct to interior or exterior wall of enclosure or remote mount not exceeding 6' (1.8m) away from enclosure
*See mounting page for configurations