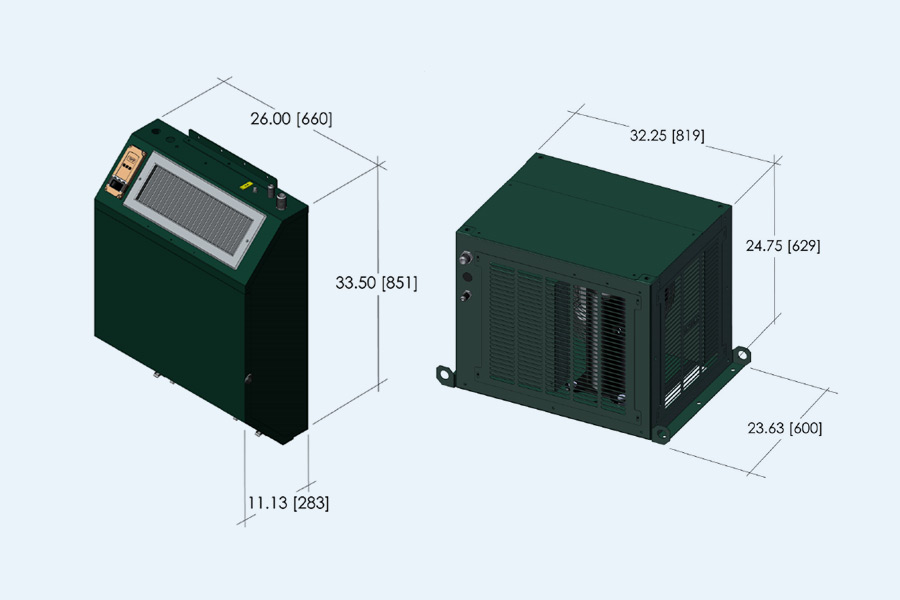 A Solution for Applications Between Commercial and Customized
If you're in an industry or working in an environment where a commercial air conditioning system doesn't meet your needs or would require frequent replacement, the Lintern Corporation super duty air conditioning system is for you. Also designed for industries that don't need the full capability of a severe-duty Lintern air conditioner, the super duty unit provides dependability and performance at the right price point.
This unit is ideal for port crane operations, overhead traveling cranes, electrical pulpits, mobile equipment, and other applications where vibration, corrosion, and high ambient temperatures require a solution. It consists of a condenser unit, evaporator unit, and a flexible connection kit. Installation is quick and easy.
Explore the specifications and mounting options for our super duty air conditioning system below. If you'd like to learn more about the features and applications of these units and discuss their available options, please contact our sales team today.
CAPACITY
20,000 BTUH (5.9 KW)
OPERATING RANGE
50°F-135°F (10°C-57°C)
RETURN AIR RANGE
72°F-90°F (21°C-32°C)
FRAME CONSTRUCTION
Welded heavy duty steel, polyester powder coated
CONDENSER COIL
Aluminum tube and fin microchannel, 14 fins per inch (1.8mm)
Flexible epoxy coated
REFRIGERANT
R-134A
COMPRESSOR
Copeland hermetic scroll
FAN MOTOR
18" (457mm) diameter axial fan with flexible epoxy coated aluminum blades
2335CFM @ 50Hz/3970M3/H
2800CFM @ 60Hz/4760M3/H
VOLTAGE
230/1/60 Hz
220-240/1/50Hz
230,460,575/3/60 Hz
220,380/3/50 Hz
240 VDC with VFD
CONTROLS
Electronic NEMA type 4x thermostat with LCD display screen mounted in evaporator frame with Fan-Off-Auto rocker mode switch
EVAPORATOR MOTOR
.25HP (.19kW) 1140RPM 60Hz @ 57dba
950RPM 50Hz @ 57dba
.50HP (.37kW) 1750RPM 60Hz @ 71dba
1450RPM 50Hz @ 71dba
EVAPORATOR COIL
Aluminum fin, 12 fins per inch (2.1mm)
Flexible epoxy coated
WEIGHT (LB/KG)
152 lb/64 kg evaporator
MOUNTING
Evaporator: ceiling or wall
Condenser: exterior
*See mounting page for configurations
HEATER (OPTIONAL)
4000 watt optional